Once a British penal colony, now Australia's New World City.
From award-winning architecture to rainforest national parks and boundless wildlife reserves, Brisbane is filled with a wealth of stunning creativity and endless natural beauty.
Why visit Brisbane
Known as the River City, for being built upon and divided by, the great, Brisbane River, the city of Brisbane is reputed for being a thriving multicultural metropolis with an innovation-led economy, friendly locals and an enviable outdoor lifestyle.
Near the heart of Brisbane lies Fortitude Valley, Australia's first designated entertainment precinct. The Valley provides selection of trendy rooftop bars, live music and dance clubs. Come nightfall, the streets are pumping with the sound of laughter, live bands and club beats. Just next door, the newly developed, Howard Smith Wharves, have also become a popular destination for social drinks and casual dining, providing guests with a close-up view of the Brisbane River and the iconic, Story Bridge.
While the Valley certainly isn't everyone's cup of tea, Brisbane's inner-city regions are littered with food, dining, entertainment and nightlife precincts. One of the most diverse regions is Southbank, an urban paradise in the city, famous for its wealth of theatres, bars, restaurants, museums and art galleries, as well as a sandy beach that overlooks Brisbane City's, North Quay, and the iconic Brown Snake.
The Brisbane River, affectionately known as the Brown Snake, connects the city to the Moreton Bay Marine Park, where visitors are spoilt for choice between Moreton Island, South Stradbroke Island and several smaller, uninhabited Islands. Here you can enjoy endless days in the sun, exploring underwater shipwrecks with dolphins, sharks and rays, or climbing enormous sand dunes in search of magnificent views or local natives, such as kangaroos, koalas and wallabies.
The soft sandy beaches of the Gold Coast and Byron Bay are just a short trip south of Brisbane, easily accessible by both car and public transport. Directly north of Brisbane is the Sunshine Coast region, best known for the world famous, Australia Zoo, as well as the town of Noosa and Fraser Island, the world's largest sand island and the last home of the mighty dingo. For anyone hungry for a longer adventure, travelling further north will bring you to the Great Barrier Reef Marine Park, home to one of the seven natural wonders of the world, Earth's largest coral reef.
Nature lovers are also spoilt by a selection of local reservoirs, botanical gardens, tropical rainforest parks and open bushland reserves, where you can witness a range of iconic Australian flora and fauna, including birds, reptiles and mammals. For those less into wilderness adventure, but still want an experience with the unique, weird and wonderful Australian native wildlife, Brisbane's Lone Pine Koala Sanctuary is one of the only places in the world where you can see a platypus in captivity and even hold a koala.
With a high safety index and world-class education facilities, from primary through to graduate studies, Brisbane is a popular destination for students and families of all ages. Most major Australian companies and a long list of international companies have offices in the city, providing graduates with exciting job opportunities among some of the world's most reputable organisations.
While Brisbane is Australia's largest city by size, and third-largest by population, the Sunshine State's capital still has a low population density, meaning rent is still affordable, while inner-city public transport is relatively cheap, reliable and easily accessible. Most residents happily commute by bus, train or the world class, CityCat.
With around 285 sunny days each year, it's no wonder that most Brisbane residents spend a lot of time outdoors. From award-winning architecture to rainforest national parks and boundless open green spaces, Brisbane is filled with a wealth of stunning creativity, endless natural beauty and plenty to do. Both unique and beautiful, the River City is quickly becoming one of the world's hottest destinations to live.
Historic overview of Brisbane
Brisbane has come a long way since colonisation in 1824, when the area was designated as a European convict settlement. Nearly twenty years later, after the British ceased the deportation of convicts to Australia in 1842, Brisbane was opened to free-folk and settlers began migrating to occupy fertile regions along the Brisbane River.
Over the next few decades, the rapid expansion of new settlements around Brisbane would bring about resistance from the local indigenous clans. Fighting between native aborigines and European settlers eventually led to a genocidal war, where tens of thousands of aboriginals were massacred at the hands of British troops and Crown-appointed authorities.
Towards the end of the eighteenth century, Brisbane entered into a period of industrial development, continuing long after Australia's federation in 1901. By the end of the 1920's, Brisbane had transitioned into a major Australian city.
During the second world war in 1941, when Japan overpowered Allied forces in southeast Asia, American Asiatic Fleet submarines were forced to evacuate the Philippines, heading towards Australia.
For strategic positioning, the Port of Brisbane was selected as a United States Navy (USN) submarine base and the River City became home to 80,000 American soldiers.
While crowds were overly receptive of the American visitors, drunken violence between Australian and American forces became a regular occurrence in Brisbane City. At the end of 1941, after months of tension between the allied forces, the Battle of Brisbane was sparked when an Australian soldier was shot dead by an American Military Police officer conducting a routine check on a subordinate. It was a short-lived riot, but the Aussie Military Police were called in to stabilise the situation after numerous Americans were hospitalised.
Despite rapid progress after the war, Brisbane was always seen to be culturally lagging behind Sydney and Melbourne, however, following Brisbane's hosting of the Commonwealth Games in 1982, the River City received an injection of cultural development, infrastructure and international sporting facilities.
In 1988, the eyes of the world again turned to Queensland, when Queen Elizabeth II officially opened the 'World Expo 88'. 18 million visitors flocked to Brisbane for the global exhibition, which is now known as the city's historic rebirth. The site was later immortalised as the South Bank Parklands, now known as the heart of Brisbane's cultural, art, entertainment, food and dining precincts.
Since 1825, Brisbane has developed into a multiculturally diverse metropolis and a global hub of scientific innovation, technology, education, cultural attractions, mining and resources. Once a British penal colony, now the River City is known as a land of opportunity, providing residents and visitors with a high quality of life.
Facts About Brisbane:
Brisbane is the capital of Queensland, the north-easterly region known as the 'Sunshine State.'
With a population of over 1.6 million, Brisbane is the third largest city in Australia.
One third of the 2.3 million population were born overseas and nearly 20% speak a language other than English at home.
Brisbane is known for its scenic beauty, warm climate and friendly atmosphere.
Horse-racing events are popular among Brisbane locals, with numerous glamorous parties staged throughout the year, where everyone drinks a lot before forgetting to watch the horses.
With around 285 sunny days each year, Brisbane has more sunny days than any other Australian capital city. Temperatures remaining fairly stable across most seasons, and the sub-tropical climate makes it perfect for a range of outdoor activities.
Brisbane is Australia's New World City, with a $154 billion economy and key economical sectors including, mining and resources, information and communication technology, scientific innovation, creative industries, food and beverage, higher education, tourism infrastructure, manufacturing, aviation, logistics and distribution.
On Australia's eastern seaboard, Brisbane is the closest capital city to Asia.
Brisbane is Queensland's epicentre for the arts with world-class galleries, museums, theatres, art-house cinemas, live-music venues and events.
The story bridge is the longest cantilever bridge in Australia and modelled on Montreal's, Jacques Cartier Bridge.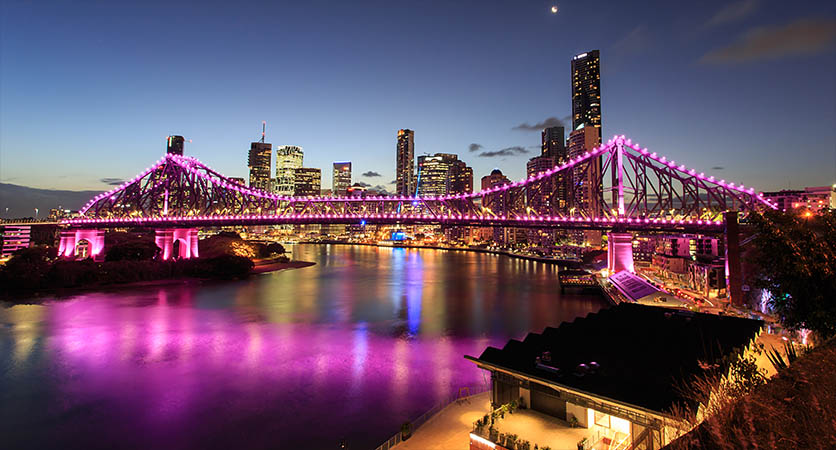 The worlds first cultivated macadamia tree lives in the city botanical garden of Brisbane. It was planted in 1858 by Sir Walter Hill near Gympie.
Brisbane has an underground opera Hall, once used as the Spring Hill water reservoir, but now known as Spring Hill's 'Opera in the Reservoir.'
Brisbane hosted the G20 Leaders Summit in 2014, with Barack Obama drawing large outside the Brisbane Mariott Hotel.
The traditional owners of the land, the Turrbal people, called the area of Brisbane City "Meanjin", which translates to 'place shaped like a spike'. This 'spike' in the river is now where the Brisbane CBD is located. The name 'Brisbane' was drawn from the river, named after Sir Thomas Brisbane, the Governor of New South Wales from 1821 to 1825
The Brisbane River is affectionately known to locals as, the Brown Snake, for its bending shape and light brown colour. Along the river you can find some of Brisbane's most iconic landmarks, so hop on a CityCat and enjoy the views.
Interested in visiting Brisbane, or anywhere else in Australia? Check out some of these posts to help you plan the perfect trip.
What was learned from Brisbane's 2011 flood and how was this knowledge applied to the 2022 flood?
Keep reading
This post was written with love for CYNDIVISION, the lil' Brazilian traveller.
About the Author: Harrison was born in Queensland, Australia, and got the taste for adventure from a young age. Since then, he has embarked on countless journeys around the east coast of Australia and believes that at least once in a lifetime, everyone should experience an all Aussie adventure and enjoy the great Australian hospitality.
Get in touch if you would like to find out more.